Need a Quote? Have a General Question? Get in Touch!
Our aim is to fully understand your needs and desires and to offer a fair quote combined with excellent delivery time. No matter your budget, we'll find a way to promote your business and ideas. Find out what are the costs and let's talk. Contact us today!
Our Services
Work Samples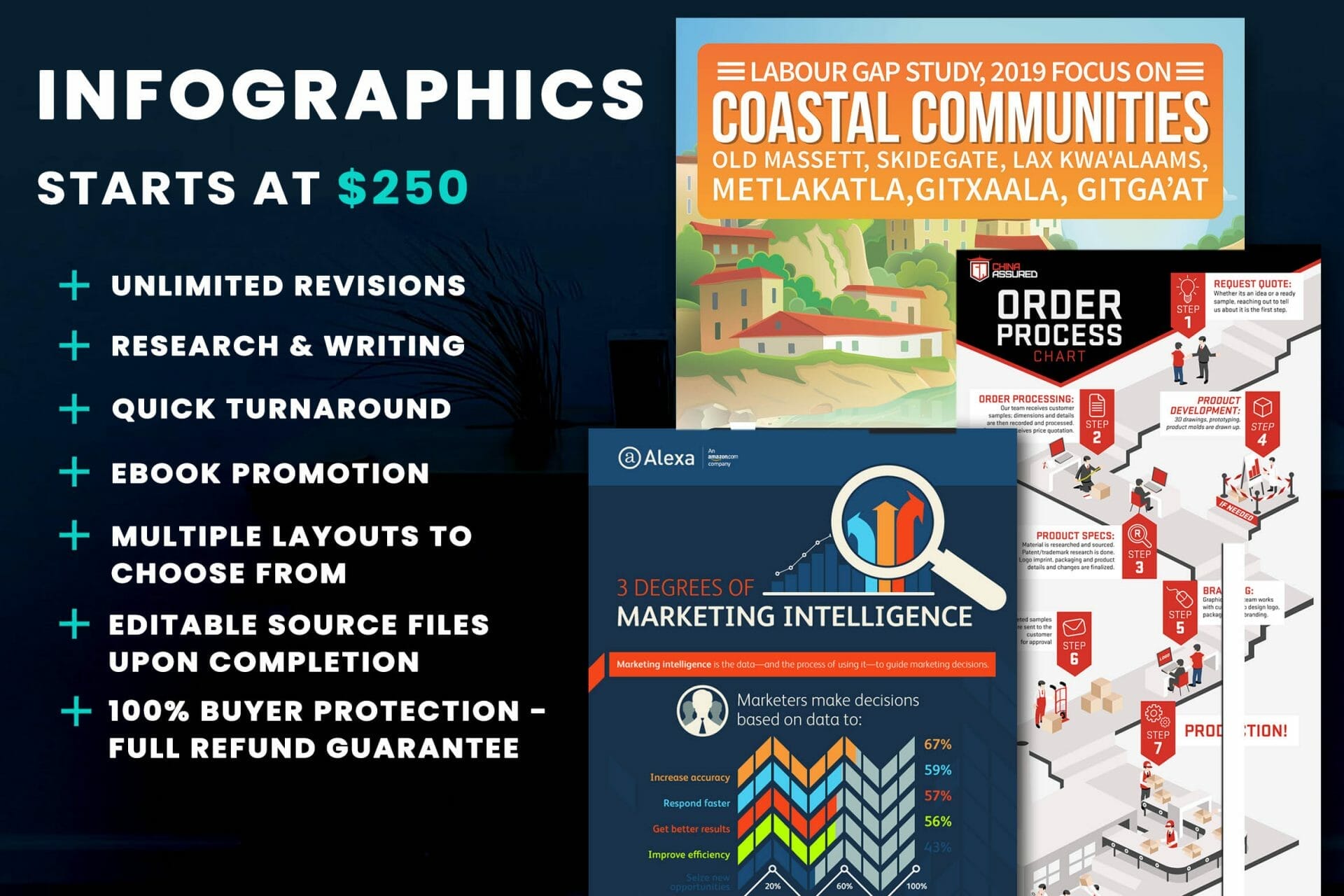 Frequently Asked Questions
We love questions from our clients. We've been answering them since 2010 and have been creating and promoting hundreds of infographics & other content marketing materials since then.
Here are some of the most common ones. If you have you own, please send it to us.
How long does the creative process take?
We usually send the first mock-up for approval within three days and that includes the research process. After we receive your feedback and changes/revision requests we will create the final design in less than one week. From concept to final product it usually takes 10 days, if multiple rounds of reviews are not necessary.
How much will it cost me?
Our aim is to offer a personalized service and each client has different needs. Prices vary depending on what you want to create and if you are only after design or the full package that includes Infographic Promotion & Submission. It's easy to find out how much it costs. Just get in touch with us, we quickly get right into the heart of the matter by asking for essential details and we will provide you with a quote. It's also a great chance to ask us more questions.
Can you work under a NDA?
Yes, of course, we have absolutely no problem with that. we already are silent partner of few US, UK, Australia & Canada based Digital Marketing agencies, they completely rely on us.
Can you create "non-marketing" infographics?
Yes, an infographic does not have to be promotional, it can also be an excellent informational tool. We created infographics for educational purposes, infographics that were in fact invites, materials that meant to be funny or infographics that were used to simply present statistic data. We can work with you on any project in which you need to visualize information of any kind. Great design is universal.
What will I get from $ 149?
You will get Basic seven pointer Customised Infographics and the Source file.
How the payment works?
Only custom Infographic is offered for $149, but for the rest, the quote is given during the initial stages of the project (Depends on the Project).
When will the order be completed? Means whats the typical turn around time?
Three working days or less (depending on the requirement).
How many edits can I request?
You can request a virtually unlimited number of edits. The first 3 rounds of revisions are free and then we add a mutually agreed minor fee to the total cost.
Do I need to provide an idea or research data?
In short: NO.
We can handle everything starting from concept and down to research, design and promotion. If you want, you can provide your input or even the data that you want to be used. It is also useful if you can offer some ideas on what you want the end result to be, such as reference art work you like on the web to help us identify your purpose. We also appreciate your feedback for the mock-up we will create in the first stage.
Will Google kill infographic links?
In short: Not for the researched ones.
Matt Cutts, the head of Google spam team, said that Google might discount infographic links in the future and he was talking about the use of widgets and infographics that are poorly researched.
Here's an excerpt: "They get far off topic, or the fact checking is really poor. "The infographic may be neat, but if the information it's based on is simply wrong, then it's misleading people,"
Our infographics are well-researched and provide interesting, accurate, and compelling information, oftentimes proprietary to the owner. Our team spends a lot of time of the research and we comply with all Google rules. Thus we think infographic links will not be discounted.
To be even safer, we always recommend using embed codes that drive people back to the original infographic in order to enable honest sharing, which Google is not against.
What else Infobrandz does except Infographics?
Infographics creation is an art & is the the most qualitative stuff in scope of designing. Team Infobrandz is not limited to infographics only, We do everything in scope of designing like – Motion Graphics, Web Designing, Display Ad Banners, Brochures, Flyers, Typography Posters, Logos, Ebooks, PPTs, Pitch Decks etc.
What's the procedure?
Our conversation will be continued further on Skype or e-mail where you will be sent initial pages draft of your project, we consider your comments on our further procedures and the Finished product will be given you with full Copyright.
Should I have to pay for Revisions?
NO, no extra cost is charged for revisions. We believe " A satisfied customer is a happy customer "
Can I get a sample before placing the orders?
If you need a sample of similar work which we have done in the past, then please drop a question in the dropbox below.