Before coming to the importance of the Instagram reels captions, here are some quick stats for you regarding Instagram reels and why you should think about the sheer power of Instagram reels.
1. Instagram reels Ads potentially reach around 11% of the global population aged 13 years or older. That's 800 million pairs of eyes.
2. Instagram clocks 1.22 billion monthly active users. And Meta reports that Instagram reels can touch more than half of it. That's around 700 million souls.
3. Instagram reels is the fastest-growing feature of Instagram to date.
These stats voice that you already have adopted Instagram reels into your Instagram marketing strategy. And you have done the right thing for your business in 2022.
So, it seems that uploading stunning Instagram reels thick and fast will enable your brand to connect with your potential customers in a better way. It's the best way to tell your brand story on Instagram through a 60-second short video format, namely reels.
That's right.
Excellent reels with adequate visual brilliance and catchy sound effects will hook the hearts and minds of your existing customers and future buyers—200%.
But there is another side to this story that is not that bright.
A particular stat shows that 92% of the users scroll through the Instagram reels and similar short videos without sound.
Yes. You heard me right. Most of your Instagram reels appear on the user's screens in a muted state. And it kills 50% of the creativity you have poured into your reels.
If user engagement is under the scanner, this condition is not healthy for your brand.
Without the sound or voice, your Instagram reels often lose their charm and fail to hook the viewer's attention.
And your brand gets scrolled away.
This is where Instagram reels captions walk in to save the day.
Let's dig a bit deeper with live examples.
We always believe that live examples are the best way to make things understandable for anyone. As a result, we will try to integrate some renowned faces storming Instagram right now with their ideas, techniques, and inspiration.
Alex Hormozi
You already know one of the most influential names on Instagram – Alex Hormozi.
Source: Instagram
He is an American entrepreneur, investor, and philanthropist who has mothered large businesses that have witnessed millions of dollars in revenue in the last decade.
His Instagram reels and videos attract millions of viewers from around this planet.
And the most important part?
You can not find any of his Instagram reels or videos without captions.
Source: Instagram
Ok. Let's dig up another example.
Jason Capital
He is 24 and a millionaire, and a successful Instagrammer.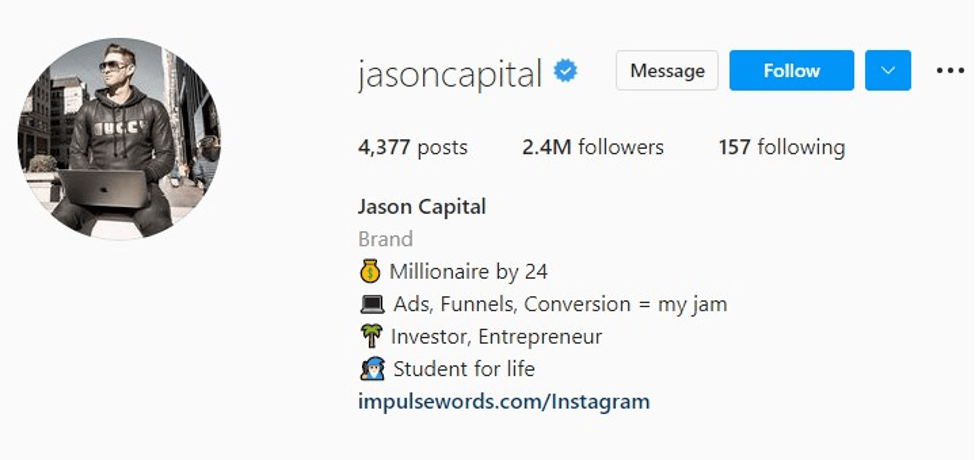 Source: Instagram
This incredible investor and Entrepreneur already have more than 2 million followers on Instagram, and his reels and videos receive similar user attractions.
Now when you look at his Instagram reels, you can see that there are hardly any reels without captions.
Source: Instagram
We can name more Instagram influencers, content creators, Artists, and Brands who are very popular for their reels and videos. And all of them use captions for reels.
Why is that so? Why Instagram reels captions are so important to them?
Let's find out the answer to that.
Instagram reels captions: Unmute your reels with a visual sound.
Instagram reels captions are the unmute buttons for your reels.
You can make sure that your reels stand out and get the attention they deserve just by adding creative and engaging captions to them. Captions create the visual sound that your reels carry to spread the brand's messages to the viewers.
Where 80% of the users decide whether or not to buy a product or service on Instagram, empowering your reels with suitable captions is a bottom-line requirement.
Moreover, Instagram reels captions enable viewers to understand your message better without any sound component.
There are other situations that you need to consider:
Captions enable the viewers to watch your reels in silence and deliver the complete message visually without any noise.
People with hearing difficulties can connect with your reels easily through the visual message.
It also enables viewers to watch your reels without disturbing the surrounding people or atmosphere.
There is no information gap without sound or voice.
Eventually, captions for reels can help your brand to engage your audience better, convey your message, and create a more memorable experience. They also help to make your reels more accessible to a broader audience.
When creating captions for your reels, keep them short, sweet, and genuine.
Instagram Reels Captions Act as Visual Hook.
Think Instagram reels captions as headlines for your reels.
Admittedly, at times we all have stumbled upon awesome and catchy blog headlines on the web.
What did we do?
We clicked. We landed on the page. We read those.
Reels captions for Instagram work in the same way. If catchy headlines make viewers click, your caption sticker on your reels will surely make your viewers watch your reels.
Technically, captions are likely the first things that attract your viewer's eyes before your reels auto-play themselves, and it's another chance to hook your viewers to your reels.
At the end of the day, all you want is to hook your viewers to your reels that tell your brand's story, and reels with captions are the intelligent integration between visual brilliance and catchy texts.
You don't want to miss it. Right?
Instagram Reels captions make your reels searchable.
Always remember that caption is a set of words or texts. And it adds other magical values to your Instagram reels. Especially, captions add searchability to your Instagram reels.
Captions for Instagram reels are a great way to add context and keyword-rich information to your videos. When someone searches for a particular topic on Instagram, the captions on related reels appear in the results.
This can help you reach a wider audience with your content and allow people looking for specific information to find your videos.
You can use up to 2,000 characters, so there's plenty of room to include all the information you want. Be sure to use keywords that people might search for and relevant hashtags. This will help your videos show up in more search results.
Drive more User Engagement with the captions for reels
Adding captions to your Instagram reels can help increase user engagement on your profile. Users scrolling through their feed will be more likely to stop and watch your reel if it has a clever or interesting caption.
Users' attention span is getting slimmer, and you need to have a powerful arrow like the Instagram reel caption to win this battle.
Here are a few tips for creating captions for your Instagram reels:
Keep them short and sweet. With an average reading speed of 2.5 words per second, you can always choose the correct number of sentences and their optimum length.
Use hashtags sparingly. Hashtags are great for getting your content seen by more people, but using too many in your reel caption can make it difficult to read. Try to use one or two at most.
Be creative and engaging. Captions are an excellent opportunity to show your personality and engage with your followers.
Make your Instagram reels stand out with good Captions.
Captions are a great way to show off your brand's human side and social voice on Instagram and make your reels stand out. Edit your caption to be creative and exciting, making sure it is relevant to the video. Here are some tips for creating good captions for reels:
Make sure the caption is funny, engaging, inspiring, and authentic.
Include hashtags to help people find your reels.
Keep the caption short and sweet, so it doesn't take away from the video.
While reels are a fun way to share snippets of your life with your followers, they can also be a great way to promote your business or website. However, if your reels aren't exciting or engaging, people will quickly lose interest and move on to someone else's content.
One way to make sure your reels stand out is to use good captions. Captions can be funny, clever, or inspirational – whatever you feel will resonate with your followers.
They also help to explain what's happening in the video, which is especially important if it's a quick, short clip without much context.
Do not edit the Instagram reels captions after posting.
This is the worst part of the story.
Once you have published your story or reels on Instagram, you are done with it.
I have seen many reels that have incorrect captions. And I always wondered about the fact that why these Instagrammers and marketers take a moment and edit these issues.
Most of them are victims of autocorrect disease.
Later I found out the reason why they are not removing the mistakes. It's the Instagram algorithm.
Once you edit any part of published reels or posts, it loses its existing user reach.
There are tons of discussion threads that support this technical glitch. Most users had reported on these discussion panels that when they edited the caption part of their published videos or reels, they witnessed a substantial decline in user views on those posts.
The fact is, Instagram doesn't like excessive editing of published videos and reels as these seem spammy to their search algorithm.
So, you must be 100% sure that you are all set before hitting that publish button on Instagram. And, a professional service like Infobrandz can ensure that your reels captions are errorless before they go live on Instagram.
We do care about your brand's presence on Instagram. And it should be clean and valid, always.
How To Add Caption to Instagram Reels?
Now, coming to the technical side of this, Instagram has an inbuilt feature that can help you with this.
Add captions to your Stories and Videos through the Text Tool
You can also add captions to your Instagram stories and videos by using the in-app text tool, manually. This is a very good solution for those Instagram users who do not have access to the new 'reels auto caption' feature as Instagram has launched this feature in some selected countries.
The process is very simple.
Go to Instagram, click on the 'Your Story' section and start recording. You can speak during the video recording to add your voice to the story.
Once, you have completed recording the video, tap on the 'text' icon on the top left corner of your screen.
Start typing text regarding whatever you have talked about in the video.
Now, when you share the story the texts that you have typed will appear on it along with your voice.
Instagram Auto caption feature
Thanks to Instagram, you can now add auto-captions to your Instagram reels, videos, and stories automatically. And, adding captions to your Instagram reels can help you tell a story, provide additional information, or just add some personality to your posts.
Here's how you do it:
Open the Instagram app and select the reel camera. Tap on the '+' sign to open the 'Reels' dropdown window. Choose 'Reels'.
Record a video or choose one from your camera roll section.
Now, choose the Sticker icon in the top left corner of the screen.
Choose the 'Caption' sticker option on the next window.
You should wait for the 'Transcribing audio' text to appear on your screen.
Now the video caption will appear on your screen.
Customize the text format and the color of the caption.
And, you are done.
The process of adding captions to your videos and stories is the same as reels.
But there are some loopholes in this auto caption generation process provided by Instagram. There can be many misspellings and other typos in your caption. And the worst part is that Instagram doesn't allow you to edit the same at that point in time manually.
So, you are blind here.
Thankfully, services like Infobrandz come in handy here. We are here to solve this issue for your brand and make things absolutely painless.
We are a dedicated service that handles AI-fueled Captioning service for small videos, including Instagram reels. We cater to all sizes and verticals of businesses who want to engrave their brand's name on Instagram boldly.
Last words
Admittedly, video content is a powerful communication tool. In fact, Cisco projects that by 2021, video content will account for more than 80% of all internet traffic. That's a head-turner for brands!
Similarly, captions are vital for driving engagement on Instagram, and they are a way to communicate with your followers and can help to tell your brand's story.
And captions can also be used to create a call to action, which can help to increase traffic to your website. Using captions effectively can improve your chances of driving enhanced engagement on Instagram.